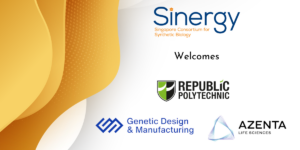 "Coming together is a beginning, staying together is progress, and working together is success." – Henry Ford.
SINERGY is delighted to introduce and welcome Republic Polytechnic as our newest academic partner, as well as Azenta and GDMC as our newest Industry members.
Republic Polytechnic

In 2002, Republic Polytechnic became the first educational institution of higher learning in Singapore to leverage problem-based learning for all of its diploma programmes. It aims to become an educational institution of choice for developing innovative, entrepreneurial, and cultured professionals. RP has seven schools offering courses in Applied Science, Engineering, Management and Communication, Hospitality, Infocomm, Sports, Health & Leisure, and Technology for the Arts. In the first year of operation, Republic Polytechnic had only 800 students. It now has more than 14,000 students and more than 1000 employees. For more information, please visit rp.edu.sg.
Azenta
Azenta Life Science provides organizations in the life sciences with tools to deliver impactful breakthroughs and therapies to market more quickly. With its expertise in combining the latest technologies, such as molecular biologists, automation engineers, data scientists, and more-the company advances the work of fellow life sciences' leaders throughout the development life cycle. With headquarters in Chelmsford, MA, and offices in North America, Europe and Asia, Azenta has over 3000 employees worldwide working across genomics, cryostorage, automation, and informatics. For more information, please visit Azenta.com.
GDMC
Genetic Design and Manufacturing (GDMC) is a next generation design and manufacturing organization focused on reducing time to clinic and patient for next-generation advanced medicines. GDMC aims to change millions of lives through exponentially increasing availability of genetic medicines by partnering with product innovators early and closely on their design. For more information, please visit gdmc.bio.