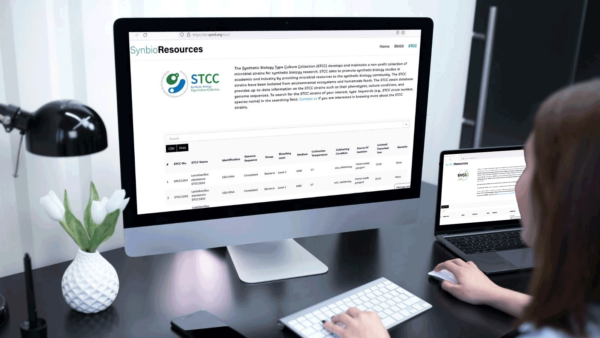 To encourage reuse and reproducibility in the synthetic biology community, the National University of Singapore (NUS) Synthetic Biology for Clinical and Technological Innovation (SynCTI) has established SynbioResources, a digital collection of databases and tools related to synthetic biology.
There are two main databases that comprise SynbioResources, namely the MBase supported by Biomodel Selection System (BMSS2) that provides mathematical models for synthetic biology design and modelling; as well as the Synthetic Biology Type Culture Collection (STCC), a collection of microbial strains. Read on to learn more about the two databases
Biomodel Selection System (BMSS2)
In the synthetic biology community, modelling has gained traction for enabling improvements in the experimental design of biosensors, cell factories, gene circuits, among others. However, developing a model with good predictive power remains challenging and highly dependent on the expertise and intuition of modellers. Moreover, there is a lack of a standardised workflow for developing models.
To address these issues, the open-source Python package BMSS2 was developed by a team led by NUS Associate Professor Poh Chueh Loo, along with Yeoh Jing Wui and Russell Ngo. Available on GitHub, BMSS2 is composed of two databases: UBase, which is initially empty upon installation and is meant to be used locally; and MBase, a global database that comes with pre-formulated models spanning simple inducible promoter systems, genetic logic gates, and more complex cellular resource models.
"BMSS2 streamlines model selection by offering essential numerical and analysis tools that make the process highly intuitive and automated—easing the use of a model-driven approach in experimental design," said Poh. "Ultimately, we aim to make model development in synthetic biology easier and faster."
According to Poh, BMSS2 encourages collaboration in two ways: first, the use of MBase encourages the reuse and sharing of models among researchers. Second, BMSS2's open-source nature encourages the provision of feedback while enabling other groups to identify potential areas for contribution and upload their own developed models. Such community contributions could lead to the proposal of new BMSS2 features and the refinement of existing ones
"We invite the synthetic biology community to contribute to BMSS2," concluded Poh. "With the growing number of different biosystem models in MBase, we anticipate greater ease in implementing automated model selection with models fully retrieved from the database."
Synthetic Biology Type Culture Collection (STCC)
In the same vein, Singapore's synthetic biology community can also tap onto the STCC, a non-profit collection of microbial strains for synthetic biology research. Under the purview of the National Research Foundation's Synthetic Biology R&D Programme, proprietary strains are expected to be isolated from the city-state's environmental ecosystems and even homemade foods like yoghurt and sourdough.
Once these diverse strains are isolated and characterised, they can then be deposited onto the STCC. Similar to other culture collections, the database not only provides updated strain information, but also distributes strains to local researchers—providing essential scientific support. However, the STCC is unique in its focus on Singapore-derived strains and its emphasis on synthetic biology applications. By leveraging the proprietary strains found on the STCC, researchers in Singapore have the freedom to operate and deploy these strains for their unique scientific needs.
Ultimately, the STCC aims to benefit the local synthetic biology community by promoting both academic research and industrial applications—including platform strain development and strain engineering for sustainable biomanufacturing, bioremediation, and more.
"When synthetic biology researchers deposit their novel strains onto the STCC for sharing, they are providing fellow researchers with valuable microbial resources," noted Foo Jee Loon, a Research Assistant Professor at NUS, who developed the STCC along with Research Assistant Professor Ling Hua, Adjunct Associate Professor Susanna Su Jan Leong, Mukesh Saini, Christopher Martinus, and Nina Juwono.
"By exchanging and improving upon each other's strains, the synergy among researchers can generate useful microbes for more exciting synthetic biology-driven applications and boost Singapore's R&D capabilities," concluded Foo.