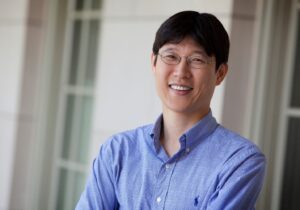 Please note that tea will be provided after the seminar. Event registration here.
Abstract
The past decade has witnessed the tremendous power of systems and synthetic biology in the creation of genetic parts, devices, and systems, which helps understand complex biological systems.  However, its potential for real-world applications has not been fully exploited.  One of its promising applications is the construction of programmable cells that are able to integrate multiple environmental signals and to implement synthetic control over biological processes.  My research interests are focused on developing microbes that are able to process multiple input signals and to generate user-defined outputs.  Specifically, I aim to build genetic programs in order to control various bacterial processes such as gene expression, chemical reactions, and evolution.  I will present unpublished results of my research projects by discussing the potential and challenges of systems and synthetic biology to address global problems, including plastic and agricultural waste issues, non-invasive diagnostics and disease treatment using smart probiotics, sustainable bioproduction, and biocontainment of engineered organisms.
This work is supported by U.S. Department of Energy, U.S. Environmental Protection Agency, U.S. Office of Naval Research, U. S. Department of Agriculture, National Science Foundation, National Institutes of Health, Defense Advanced Research Projects Agency, Air Force Research Laboratory, Joint Genome Institute, and Gates Foundation.
Speaker Bio:
Tae Seok Moon has 25 years of research experience in chemistry, metabolic engineering, systems biology, and synthetic biology, including 5.5 years of industry experience. During his academic training at MIT and UCSF (Kris Prather and Chris Voigt labs), he has built expertise in metabolic engineering and synthetic biology. His research focus (2012-present with 20 external grants; $10.2M external funding to Moon; $35M to the entire team) is understanding gene regulation, evolution, and metabolism and building RNA regulators, biosensors, and genetic circuits. His current projects include 12 funded projects from 9 government funding agencies.
He has published over 60 peer-reviewed papers, has filed 10 patents, has given over 100 invited and over 130 contributed presentations (as of 2022). He has advised 32 permanent PhD/Postdoctoral and 29 undergrad researchers. He is a Founder and Head of the Scientific Advisory Board of Moonshot Bio. Several awards include a B&B Daniel I.C. Wang Award, an NSF CAREER award, an ONR Young Investigator Award, a John C. Sluder Fellowship (MIT), an ILJU Foundation Award, an LG Chemical Fellowship, and the SNU President Prize.
He currently serves as an MIT Educational Counselor, an external evaluator of Seoul National University, an Editorial Board Member or Editor of six journals, a Conference Organizing Committee Member of Biochemical & Molecular Engineering XXII, SEED2022, and ME15 (co-chair), and a Council Member of Engineering Biology Research Consortium. He is the Founding Chair and organizer of SynBYSS (Synthetic Biology Young Speaker Series), a weekly multi-year seminar series, in which a global thought leader, a synthetic biology pioneer, and a young rising star discuss synthetic biology, systems biology, and metabolic engineering with more than 1000 global audiences.
Connect with Tae Seok Moon:
https://sites.wustl.edu/moonlab/
Twitter: http://www.twitter.com/Moon_Synth_Bio
https://www.linkedin.com/in/tae-seok-moon-12515b23