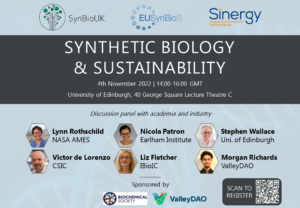 Synthetic Biology & Sustainability (ASBE VI Satellite Event)
Registration for ASBE VI conference is still open. Register here!
Abstract
Sustainability is a topic close to the heart of synthetic biology. We aim to co-design and build together with nature and tackle real world problems. In this satellite event to the 6th Applied Synthetic Biology in Europe (ASBE VI) conference EUSynBioS, SynBioUKand SINERGY will host two stellar panel discussions with synbio experts from the academia and industry, who will help us answer the following question: How can we make Synthetic Biology a part of a more sustainable future?
Our academic and industry round table discussion includes the following esteemed panelists:
Registration is free and open to everyone.
Train travel can be arranged for students and ECRs attending this event. For more information contact [email protected] with your starting destination.

SynBioUK is a student run network spread across the UK's top universities. From journal clubs to entrepreneurship programmes, their mission is to connect and support those pushing the frontiers of the life sciences. By partnering with student biotech and syn bio clubs, they provide support at each university individually. A network of representatives is the key to reaching the right people in the ecosystem. Partners include: SynBIC (Imperial College London), KCL Biotech, OUBT (Oxford), SynBio Oxford, Imperial College Computational Biology Society, NW Biotech Initiative, Crick Science Entrepreneur Network, SynBioSoc (Cambridge), London SynBio Network and the UCL BioChemEng Postgraduate Society.
Learn more about SynbioUK here

EUSynBioS is a European synthetic biology society, associated and dedicated to bringing together synthetic biologists from across Europe and beyond. EUSynBioS strives to support synthetic biology researchers in Europe through academic and industrial collaboration. They promote European Synthetic Biology in their annual conferences, collect and distribute up to date news on the field building up a network of investigators, academic and industry representatives. Furthermore, EUSynBioS organizes professional development events, creates internship and mentoring opportunities for members, and collaborates with related associations and communities worldwide.
Learn more about EUSynBioS here