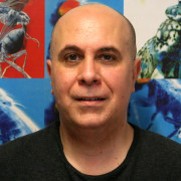 SEX DETERMINATION IN AGRICULTURAL PEST INSECTS AND GENETIC CONTROL STRATEGIES
ABSTRACT:
The dipteran Tephritidae family includes dozens of major agricultural pest species, including the mediterranean fruitfly Ceratitis capitata (medfly). The genetic control of these species can be based on the release of sterile males, following their sexing from females. A comparative evolutionary study of sex determining genes may open the way to achieve genetic sexing in different pest insects. We have isolated a Y-linked male determining gene of medfly, Maleness-on-the-Y (MoY), encoding a novel short protein, that is highly conserved in other species of this family, spanning 100 millions of years of evolution. Present challenges are to 1) understand MoY molecular mechanism of action in repressing the downstream female determining transformer gene by influencing its sex-specific splicing, and 2) develop MoY biotech usage to harness innovative genetic control strategies for Tephritidae invasive species.
BIOGRAPHY:
Giuseppe Saccone is an associate professor of Genetics in the Department of Biology at University Federico II of Naples and member of a FAOIAEA research network. His research interests include developmental and evolutionary genetics of sex determination in major insect pests, including Ceratitis capitata, Anastrepha, Bactrocera and Aedes species. He patented a method to produce male-only progeny by RNAi.