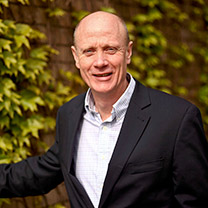 RAPID ACQUISITION AND MODEL-BASED ANALYSIS OF CELL-FREE TRANSCRIPTION-TRANSLATION REACTIONS FROM NON-MODEL BACTERIA
ABSTRACT:
Cell-free transcription/translation systems (known as CFPS or TX-TL) have recently been re-evaluated as a promising platform for enabling synthetic biology research and applications. In particular CFPS has been shown to provide a reproducible prototyping platform for regulatory elements where measurements in vitro are in part consistent with similar measurements in vivo (1,2). The advantage of being non-GMO allows rapid automated assays for characterizing parts and genetic circuit designs for pathway engineering, natural product discovery and biosensor designs (3). My lab has been interested in exploring cell free extracts from different organisms (4,5) and I will present our most recent work on cell-free systems (6). Here, we have developed a rapid automated platform for measuring and modelling in vitro cell free reactions and have applied this to B. megaterium to quantify a range of RBS variants and previously uncharacterized endogenous constitutive and inducible promoters. To provide quantitative models for cell-free systems, we have also applied a Bayesian approach to infer ordinary differential equation model parameters by simultaneously using time course data from multiple experimental conditions. Using this modelling framework, we were able to infer previously unknown transcription factor binding affinities and quantify the sharing of cell-free transcription-translation resources (energy, ribosomes, RNA polymerases, nucleotides, and amino acids) using a promoter competition experiment. This allows insights into resource limiting-factors in batch cell-free synthesis mode. Our combined automated and modelling platform allows for the rapid acquisition and model-based analysis of cell-free transcription-translation data from uncharacterized microbial cell hosts as well as resource competition within cell-free systems, which potentially can be applied to a range of cell-free synthetic biology and biotechnology applications.
(1) Chappell J, Jensen K, Freemont, PS Nucleic Acid Research, 41: 3471 (2013)
(2) Moore SJ, Hung-En Lai, Kelwick R, Chee SM, Bell D, Polizzi KM, Freemont PS. ACS Synth Biol, DOI: 10.1021/acssynbio.6b00031 (2016)
(3) Wen KY, Cameron L, Chappell J, Jensen K, Bell DJ, Kelwick R, Kopniczky M, Davies JC, Filloux A, Freemont PS, ACS Synth Biol, 6 :2293 (2017)
(4) Kelwick R, Webb AJ, MacDonald JT, Freemont PS. Metabolic Engineering DOI 10.1016/j.ymben.2016.09.008 (2016)
(5) Moore SJ, Hung-En Lai, Needham H, Polizzi KM, Freemont PS. Biotechnology Journal DOI: 10.1002/biot.201600678 (2017)
(6) Moore SJ, MacDonald JT, Wienecke S, Ishwarbhai A, Tsipa A, Aw R, Kylilis N, Bell, DJ, McClymont DW, Jensen K, Polizzi KM, Biedendieck R, Freemont, PS. Proc. Natl. Acad. Sci USA in press (2018)
BIOGRAPHY:
Professor Paul Freemont is co-director of the new EPSRC national Centre for Synthetic Biology and Innovation at Imperial College London. He is also currently the Head of the Division of Molecular Biosciences (since 2005) and holds the Chair in Protein Crystallography.
Previous to this, Professor Freemont was Head of the Imperial College Centre for Structural Biology (2000-2005) having joined Imperial from Cancer Research UK London Research Institute. His research interests have focused on understanding the molecular basis of a number of human diseases including cancer and he is the author of over 140 peer-reviewed scientific publications. Professor Freemont together with Professor Kitney (Dept. of Bioengineering) co-founded the EPSRC Centre for Synthetic Biology and Innovation in 2009. The Centre is the first of its kind in the UK and aims to develop an engineering framework and new technology platforms to enable synthetic biology research in areas of bioenergy, biosensors, biomaterials and metabolic engineering.
Professor Freemont has also held a number of external positions including membership of Royal Academy of Engineering enquiry into Synthetic Biology (2006-2008); member of Cancer Research UK Biological Sciences funding panel (2006-2011); current member of the Diamond Light Source Scientific Advisory Committee (since 2011); past member of Wellcome Trust Genes Molecules and Cells funding panel (2002-2005); past member of Wellcome Trust fellowships panel (2002-2005) and current Chair of London Structural Biology Consortium (since 2004). He is also a visiting Professor to the London School of Economics and Political Science (since 2011).
In addition to his academic activities, Professor Freemont is a co-founder of the spin out company Equinox Pharma Ltd (since 2003), sits on the Scientific Advisory Board of Netscientific Ltd (since 2011) and has held consultancies with a number of other companies and organisations including Scottish Enterprise, Syngenta and Rio Tinto. He has also been active in a number of public engagement activities including the RCUK Public Dialogue on Synthetic Biology (2010) and the Royal Academy of Engineering public engagement on synthetic biology (2008).
Along with Prof. Kitney, he has appeared regularly on radio and television broadcasts on the subject of synthetic biology.