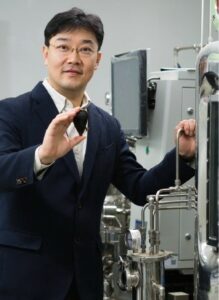 MEDICAL APPLICATIONS OF INNOVATIVE MUSSEL PROTEIN BIOADHESIVES
ABSTRACT:
Marine mussel adhesion is known to be mediated by adhesive proteins, which are secreted through the mussel byssus and have great potential as biologically and environmentally friendly adhesive biomaterials due to their biocompatibility and biodegradability. In addition.
BIOGRAPHY:
Prof. Hyung Joon Cha received his PhD in Chemical Engineering from Seoul National University in 1995. From 1996 to 1998, he was the Postdoctoral Associate in University of Maryland Biotechnology Institute, USA and the Assistant Research Professor of Department of Chemical Engineering at University of Maryland, College Park in 1998-1999. He joined Pohang University of Science and Technology (POSTECH) in 1999. His area of interests includes protein-based structural biomaterials, tissue and biomedical engineering, and biosensors. He has published ~200 peer-reviewed research papers and holds more than 100-registrated patents. Currently, he is the SeAH Chair Professor of POSTECH and the Director of Marine BioMaterials Research Center funded by the Ministry of Oceans and Fisheries, Korea through recognition of his prominent work on mussel-derived adhesive biomaterials for tissue and biomedical applications. He is also the co-founder and Chief Technology Officer of Nature Gluetech Co., Ltd for technology commercialization of mussel adhesive protein as an innovative medical bioadhesive. His work has been recognized by many awards, selectively including a Korea Engineering Award of the Korea President, Inventor of The Year Award, a 2020 Future 100 Best Technologies and Researchers Award, a 2012 National R&D 100 Best Researches Award, and a Song-Gok Science and Technology Award.