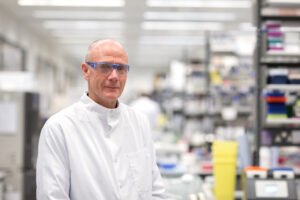 Enabling the transition to a global Bioeconomy with synthetic biology – opportunities and challenges 
Please note that there will be a tea reception after the seminar. Event registration here.
Abstract
Synthetic biology is now an established interdisciplinary research field which aims to engineer and re-engineer biological systems for both useful applications and further our understanding of the rules of life. The field has grown rapidly over the last 20 years with major public and private investment. However, despite the enormous progress, the full promise and potential of synthetic biology has not yet been achieved. In this talk I will describe some of the advances the field has made over the last 20 years and discuss the opportunities for transitioning to a Bioeconomy through bio manufacturing and the challenges that that poses.  I will introduce the importance of public-funded bio foundries and examples from my own research to highlight some of the opportunities and technical and infrastructure challenges.
Bio:
Professor Paul Freemont is the co-founder and co-director of the National UK Translation Centre for Synthetic Biology, SynbiCITE and operational director of the London BioFoundry at Imperial College London. He is also the Head of the Section of Structural and Synthetic Biology in the Department of Infectious Diseases at Imperial. He was previously the Head of the Division of Molecular Biosciences and Centre for Structural Biology having joined Imperial from Cancer Research UK London Research Institute (now known as the Crick Research Institute) where he was a Principal Investigator. His research interests are focused on developing synthetic biology foundational tools, automation and biofoundries and cell-free systems for specific applications including biosensing and metabolic engineering. He is author of over 300 scientific publications and is an elected member of European Molecular Biology Organisation and Fellow of the Royal Society of Biology, Royal Society of Chemistry and Royal Society of Medicine and is an Honorary Fellow of the Royal College of Art. He was a co-author of the British Government's UK Synthetic Biology Roadmap and is currently a council member of the US Engineering Biology Research Consortium and member of the UK governments Office for Science and Technology Engineering Biology sub-group.