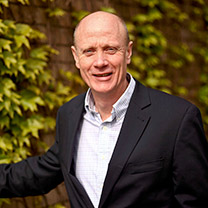 ENABLING A RAPID TRANSITION TO A GLOBAL BIOECONOMY WITH SYNTHETIC BIOLOGY – OPPORTUNITIES AND CHALLENGES
ABSTRACT:
Petroleum has played an important role in the social, economic and political history of the world particularly in Singapore. The start of the 20th century, led to an industrial revolution in petrochemicals now accounting for about 40% of the global chemicals market worth around $3 trillion. Given the growing global population, the widespread effects of climate change and the growing environmental pollution problem, there is an urgent need to re-think how human activities can be sustained. One growing area which aims to address these challenges is the concept of the Bioeconomy and in this talk, I will describe how new bioeconomies will be enabled by synthetic biology technology developments to accelerate the transition to global bio-based processes and products.
BIOGRAPHY:
Professor Paul Freemont is co-director of the new EPSRC national Centre for Synthetic Biology and Innovation at Imperial College London. He is also currently the Head of the Division of Molecular Biosciences (since 2005) and holds the Chair in Protein Crystallography.
Previous to this, Professor Freemont was Head of the Imperial College Centre for Structural Biology (2000-2005) having joined Imperial from Cancer Research UK London Research Institute. His research interests have focused on understanding the molecular basis of a number of human diseases including cancer and he is the author of over 140 peer-reviewed scientific publications. Professor Freemont together with Professor Kitney (Dept. of Bioengineering) co-founded the EPSRC Centre for Synthetic Biology and Innovation in 2009. The Centre is the first of its kind in the UK and aims to develop an engineering framework and new technology platforms to enable synthetic biology research in areas of bioenergy, biosensors, biomaterials and metabolic engineering.
Professor Freemont has also held a number of external positions including membership of Royal Academy of Engineering enquiry into Synthetic Biology (2006-2008); member of Cancer Research UK Biological Sciences funding panel (2006-2011); current member of the Diamond Light Source Scientific Advisory Committee (since 2011); past member of Wellcome Trust Genes Molecules and Cells funding panel (2002-2005); past member of Wellcome Trust fellowships panel (2002-2005) and current Chair of London Structural Biology Consortium (since 2004). He is also a visiting Professor to the London School of Economics and Political Science (since 2011).
In addition to his academic activities, Professor Freemont is a co-founder of the spin out company Equinox Pharma Ltd (since 2003), sits on the Scientific Advisory Board of Netscientific Ltd (since 2011) and has held consultancies with a number of other companies and organisations including Scottish Enterprise, Syngenta and Rio Tinto. He has also been active in a number of public engagement activities including the RCUK Public Dialogue on Synthetic Biology (2010) and the Royal Academy of Engineering public engagement on synthetic biology (2008).
Along with Prof. Kitney, he has appeared regularly on radio and television broadcasts on the subject of synthetic biology.