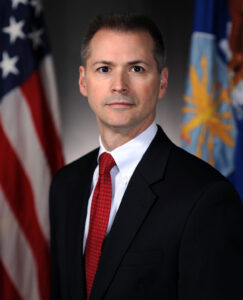 AIRMAN SYSTEMS DIRECTORATE
BIOGRAPHY:
Dr. Kevin T. Geiss is Director of the Air Force Research Laboratory's Airman Systems Directorate. Located at the Wright-Patterson Air Force Base Ohio, the directorate is a R&D organisation composed of a diverse group of scientists and engineers looking into developing technologies specific to the human element of warfighting capability. The directorate leads the Air Force in its human-centered research, and integrates biological and cognitive technologies to optimize and protect the Airman's capabilities in aerospace operations.
Dr. Geiss earned both his M.S. and Ph.D. from Miami University of Ohio and worked as a senior research scientist in the Air Force Research Laboratory. Over his career, he has been in several eminent positions including Program Director for Energy Security responsible for the development, coordination and implementation of the Army's Energy Security strategy and Assistant Director for National Defense in the White House Office of Science and Technology Policy. Dr Geiss is also a recipient of multiple Air Force and Army awards for outstanding service.