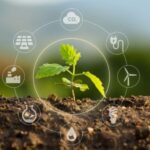 A*STAR has established a new research institute to support Singapore's sustainability goals. Known as the Institute of Sustainability for Chemicals, Energy and Environment (ISCE2, pronounced "I-S-C-E-squared"), the institute will advance R&D in areas such as low-carbon technologies, carbon life cycle assessment, sustainable materials and green manufacturing processes using the latest digitalisation and automation tools. ISCE2 will be partnering academia, public agencies and industry to achieve Singapore's climate change goals, including the Singapore Green Plan and Zero Waste Masterplan; as well as support the local energy, chemicals and pharmaceutical sectors in becoming more sustainable.
Read the full press release here.
Read the media coverage from Straits Times here.