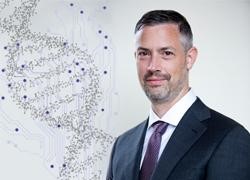 21 Oct 2021
23 October 2020 | 9.30am
Engineering synthetic regulatory systems using naturally inspired design principles
We have recently demonstrated that two engineering principles inspired by natural regulatory networks can be used to create new classes of synthetic circuitry in eukaryotic cells:
1) In eukaryotic gene networks, transcription factor complexes that undergo cooperative self-assembly carry out non-linear regulatory operations involved in cellular decision-making. We showed that engineered cooperative assemblies can be used to predictively tune between regimes of linear and non-linear regulatory response for single- and multi-input circuit assemblies, and can be adjusted to control dynamic behavior.
2) In eukaryotic signal transduction networks, specificity of kinases and phosphatases is often dictated by their regulated co-localization with substrates. We exploited this phenomenon to create synthetic signaling cascades in which network links are realized through successive phosphorylation-driven co-localization events. Our synthetic signaling pathways activate on a fast timescale and can be coupled to arbitrary receptor inputs, allowing us to rewire the way in which cells can sense their environment.